Organisation :
The Federation of Nepalese Chambers of Commerce and Industry (FNCCI) is an umbrella organisation of the Nepalese private sector. It was established in 1965 with the aim of promoting business and industry while protecting the rights and interests of business and industrial communities, FNCCI has been playing a key role in promoting business and industry in the country. It provides, inter alia, information, advisory, consultative, promotional and representative services to business and government and organises training / workshop / seminar on a regular basis.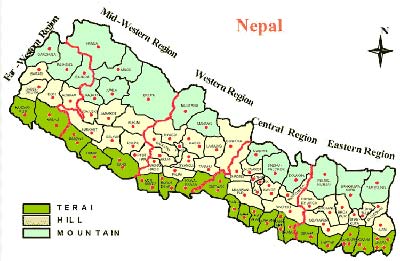 The FNCCI Membership, at present, is comprised of :
96 District / Municipality Level Chambers in 75 Districts of Nepal
89 Commodity / Sectoral Associations
607 leading public and private sector undertakings
20 Bi-national Chambers
The FNCCI is represented in almost all national councils / boards / committees / policy advisory bodies concerned with business and industry.
Vision :
"Leading the Nation's Economic Progress"
Mission :
"Facilitating Nepalese Businesses Become Globally Competitive"
Objectives :
FNCCI has adopted the following set of objectives.
Play a catalytic role in the business, industrial development and establish sound industrial relations in the country
Reinforce business community's commitment to the society
Provide advisory services to government, lobby as and when required in formulation and execution of business and industry related policies, acts and programmes
Foster cooperation with related national and foreign organisations
Provide up-to-date information services to business and government and the community at large
Create awareness and support for business and industry efforts on issues affecting business like quality, social responsibility, corporate governance, HIV /AIDS, child labour, environment etc.
Functional Principles :
FNCCI - activities are underpinned by the following principles.
Professionalism in operation
Partnership approach in working with government, international organizations
Presentation of total business and industry view
Commitment to fairness, transparency, de-regulation, de-centralisation and de-licensing
Confidence in fair competition and private initiative
Extensive consultation in deciding industry and business views
Close cooperation with foreign federations / chambers
Proactive role, i.e., initiating ideas and proposals


General Assembly and Executive Committee :
The highest policy making body of the FNCCI is its General Assembly which generally meets on an annual basis. The activities and functions of the FNCCI are planned and managed by the Executive Committee consisting 74 members including President and 5 nominated members who have tenure of three years (As per the Fifth amendment of FNCCI Constitution). Immediate Past President is the ex-officio member of this Committee. The Executive Committee elects Vice-Presidents and constitutes the Councils and various Committees and Forums. It also appoints Director General who heads the FNCCI Secretariat.
The Office Bearers (President, Immediate Past President, Vice-Presidents) and Chairpersons of the Committee form the Standing Committee, which takes care of the urgent matters on behalf of the Executive Committee.
Councils :
There are three Councils viz: District / Municipality Council, Commodity Council and Employers' Council within FNCCI looking after the specific interests of the various segments of its member.
The Employers' Council, a permanent organ of the FNCCI acts as the national organization of Employers'. It establishes links between employers, employees and the government through regular contacts. It also presents unified opinion on labour related issues, industrial relations and organises programme activities in the related areas.
Membership Committee :
The Membership Committee scrutinizes the applications for memberships and submits recommendation to the Executive Committee for decision to grant membership of FNCCI.
Committees / Forums / Councils :
The Executive Committee forms various Committees/ Forums/ Councils focussing generally on the sectoral and other specialised activities. The Committees / Forums / Councils presently operating are:
Committees:

Banking, Finance & Insurance
Branding & Income Generation
Cottage & Small Scale Industry
Energy
Export Promotion
Industry
ICT Development
One District One Product
Productivity & Quality
Surface Transport & Transit
Tax & Revenue
Tourism
Trade
Women Entrepreneurs Development


Forums / Councils

Sectoral :


Culture & Entertainment Forum
Environment Forum
Investment Promotion Forum
Janakpur Development Forum
Sick Industry Rehabilitation Forum
Social Service Forum
Trade School Forum
Urban Development Forum


Bilateral :

FNCCI-CII (Confederation of Indian Industry) Joint Economic Council
FNCCI-FBCCI (Federation of Bangladesh Chambers of Commerce and Industry) Joint Business Council
Nepal-China Non-Governmental Co-operation Forum
FNCCI-FPCCI (Federation of Pakistan Chambers of Commerce and Industry) Joint Business Council
Secretariat :
For effective day-to-day operation of the FNCCI, there is a Professional Secretariat with Business Library, Training Unit, Human Resource Development (HRD) Centre, Database / Computer Unit, Display Hall and Conference / Meeting Halls besides Office Bearers and Administrative wings supported by professional and support staff.
Services :
Following are the main services being provided by FNCCI:
Representing the entire business community of the country in national and international forums
Preparing recommendations for promoting exports and investment
Promoting joint ventures
Providing expertise service to exporters, importers and investors
Facilitating participation in national and international trade fairs and exhibitions
Promoting better industrial relations
Providing business information and research services
Strengthening local chambers and associations
Promoting entrepreneurship
Conducting, on a regular basis, trainings, workshops, seminars on chamber management, publication, information exchange, documentation, industrial relation, productivity, entrepreneurship, quality management, environment etc.
Providing "One Stop" service to its members
International Linkages :
FNCCI is the member of the following international organisations.
International Chamber of Commerce (ICC)
38, Cours Albert 1er - 75008, Paris (France)
Tel. (331) 49532822. Fax (331) 49532924.
E-mail: icc@iccwbo.org Url: http://www.iccwbo.org


International Organisation of Employers' (IOE)
GPO. Box 68, 26 Chemin de Joinville, CH - 1226 Cointrin/Geneva
Tel. 4122 7981616. Fax 7988862.
E-mail: ioe@ioe-emp.org Url: http://www.ioe-emp.org


Confederation of Asia-Pacific Chambers of Commerce and Industry (CACCI)
9th Fl., 3 Sungshou Road, Taipei 110, Taiwan
Tel. (886 2) 2725-5663/4. Fax (886 2) 2725-5665.
E-mail: cacci@ficnet.net Url: http://www.cacci.org.tw


SAARC Chamber of Commerce and Industry (SCCI)
House #. 5, Street #. 59, F-8/4 Islamabad, Pakistan-756001
Tel. (92-51) 2281395-96. Fax (92-51) 2281390.
E-mail: saarc@isb.comsats.net.pk Url: http://www.saarcnet.org


Standing Committee for the Chamber of Commerce of Group-77


Asian Trade Promotion Forum (ATPF) (JETRO)
2-5, Toranomon 2-Chome, Minato-ku, Tokyo 105.
Tel. (813) 35825574. Fax (813) 35851630
Url: http://www.atpf.org


World Association of Small and Medium Enterprises (WASME)
Saraswoti House, 27, Nehru Place, New Delhi - 110 019, India.
Tel. (9111) 6411417, 6443585. Fax (9111) 6414058.
E-mail: cda@wasmeinfo.org Url: http://www.wasmeinfo.org
Cooperative Agreements :
It cooperates with the following foreign chambers and organisations through memorandum of understanding / agreement :
Project and Cooperation Arrangements :
FNCCI has been actively cooperating also with various foreign / international organisations such as
UNDP, USAID, DFID, UNIDO, UNCTAD/GATT/ITC, THE WORLD BANK, ILO, PPPUE, SEQUA-GTZ Private Sector Promotion Project, UNFPA, Asia-Invest, JICA, IOE, NIKKEIREN, APO, JETRO, SAARC Secretariat, ICIMOD, AOTS
etc. in carrying out various activities for the promotion of business and industry.
In cooperation with USAID/Nepal, it has established an Agro Enterprise Centre, which promotes agro business in the country.
The Government of Nepal has authorised FNCCI to issue and delegate the authority to its member chambers to issue Certificate of Origin for the products to be exported from Nepal.
Technology and Trade Information Promotion System (TIPS) National Bureau is established at FNCCI.
To raise the awareness on prevention of HIV/AIDS on public, the FNCCI has established a "HIV/AIDS Cell".
It has established well-equipped HRD (Human Resource Development) Centre at FNCCI with the support from the Embassy of Japan.
The FNCCI has also established specialised Cells like WTO Cell, Industrial Environment and Energy Promotion Program to expand specialized services to its members.
The FNCCI has joined the South-Asian Alliance for Responsible Business (SARB) and is involved in promoting corporate social responsibility related program among its members.
The FNCCI has also initiated the Non Resident Nepali (NRN) Cell, which is working as the Secretariat of Non Resident Nepali Association.
The FNCCI has promoted the Nepalese Young Entrepreneurs' Forum (NYEF), and National Youth Business Forum (NYBF) with an aim of creating entrepreneurship through idea exchange, fellowship, education, training and advocacy among the Nepali Youth.
Corporate Financial Governance (CFG) Project is established in the FNCCI with the aims of supporting long-term process for sustainable private and financial sector development by strengthening the basic foundations of Nepal's legal, corporate and financial sectors, with a joint partnership between FNCCI and ADB. FNCCI has taken the role of the implementation agency and Ministry of Finance as the executing agency.
FNCCI has established a Commercial Mediation Centre (CMC) with the support of ARD, Inc, Rule of Law Project / USAID/ Nepal. It is a centre for alternative dispute settlement and also provides pre-litigation and post-litigation commercial mediation services for FNCCI Members and other businesses.

The FNCCI has partnered with WINROCK International, in a project in Mid-Western Development Region designed to provide education and vocational training for employment generation and conflict mitigation project - (named EIG-CM) funded by USAID.

The FNCCI in partnership with Ceylon Chamber of Commerce, Sri Lanka, is involved in implementing activities of the Project called South Europe meets South Asia (SEMSA) financed under EU Asia Invest Programme. The project focuses on activities to enhance networking and investment in IT and IT enabled services and food processing sub-sectors.